All Summer Program
What makes UCLA different
UCLA is a public research university located in Los Angeles, California. It is one of the most prestigious universities in the world, and is consistently ranked among the top 10 public universities in the United States. UCLA is known for its strong academics, diverse student body, and vibrant campus life.
Here are some of the things that make UCLA different from other schools:
Public Ivy:

 

UCLA is one of the "Public Ivies," a term used to describe public universities with academic reputations similar to those of the Ivy League schools. UCLA is consistently ranked among the top public universities in the country, and its alumni include Nobel laureates, Pulitzer Prize winners, and CEOs of Fortune 500 companies.
Diverse student body:

 

UCLA has a diverse student body, with students from all over the world. This diversity creates a rich learning environment where students can learn from each other and gain new perspectives.
Vibrant campus life:

 

UCLA has a vibrant campus life with something for everyone. There are over 1,000 student organizations on campus, as well as a variety of cultural events, sporting events, and concerts.
Location:

 

UCLA is located in Los Angeles, one of the most exciting cities in the world. Students have access to world-class museums, theaters, and restaurants, as well as the opportunity to intern at major companies and organizations.
If you are looking for a challenging academic environment with a diverse student body and a vibrant campus life, then UCLA is a great choice for you.
Programs
UCLA
---
Summer College Immersion Program
---
The UCLA Summer College Immersion Program provides high school students with an oppourtunity to experience an introduction to college life while studying their chosen course alongside UCLA undergraduates.
UCLA
---
UCLA Summer Sessions
---
A diverse and welcoming campus, UCLA Summer Session offers over 800 rigorous in person and virtual courses for its high school students. Applicants may choose 1-2 courses from the immense collection provided.
UCLA
---
Digital Filmmaking Summer Institute
---
The Film and Television Summer Institute – Digital Filmmaking gives high school students from across the country and around the globe an unparalleled opportunity to study filmmaking at one of the most prestigious film schools in the world.
UCLA
---
Pre-College Cinematography Summer Institute
---
The UCLA Film and Television Summer Institute – Cinematography gives high school students an unparalleled opportunity to study cinematography at one of the most prestigious film schools in the world.
UCLA
---
Media Parks: The Cinematic and Televisual History of Theme Parks Program
---
In this three-week intensive program, students will explore theme park history, and the evolution of the relationship between moving image media (film, television, and video games) and theme parks.
UCLA
---
Traditional Animation Summer Institute
---
Make your own animated film and meet Hollywood's most accomplished professionals at the world-famous UCLA Animation Workshop. The Traditional Animation track teaches students how to write, storyboard, and draw their own animation film. No drawing experience is required, just limitless imagination!
UCLA
---
Pre-College Writing for TV Summer Institute
---
The Film and Television Summer Institute – Writing for TV: Big Ideas for the Small Screen introduces motivated high school students to writing for television in Hollywood.
UCLA
---
Summer ESL Program
---
Welcome to the UCLA Summer ESL Program! We offer a range of English courses that are designed to help students meet their English language needs in small, intimate classrooms that facilitate the language and cultural learning experience.
Learn More
Campus Life
Designed as a "college in a garden," the 419-acre Westwood campus sprawls across the Santa Monica Mountain foothills and south into the Los Angeles basin. You might wonder if every building, bench and path has a story to tell. Chances are, they do.
Stand where MLK Jr. gave his "Segregation Must Die" speech at the base of Janss Steps. Marvel at the red brick Romanesque Revival architecture of Powell Library, where Bradbury wrote Fahrenheit 451. Stroll past 16 different recreation centers, the playgrounds for Olympic medalists and mere mortals alike. And don't forget to stop for a selfie at the birthplace of the Internet.
Housing and Dining
It's no wonder that more than 98 percent of first-year undergrads choose to live in the residence halls — life on the Hill means you're a short walk from classes and everything else that campus has to offer. From the more than 5,000 annual events and relaxing sunset vistas to cutting-edge study spaces and palm tree studded terraces, it won't take you long to find your own happy place.
Clubs, Organizations and Recreation
Something extraordinary for everyone.
UCLA is a mosaic of culture and activity. With more than 1,200 clubs and student organizations, you'll find ample opportunities to discover new interests and make friends with like-minded Bruins.
Sports and Recreation
Whether it's for competition or simply for fun, students are active in just about every imaginable sport or recreational activity. With 15 multipurpose workout facilities and six pools spread throughout campus, UCLA Recreation sponsors instructional classes, an intramural sports program that consists of 30 leagues, tournaments, meets and special events, and 50 club sports. The UCLA Marina Aquatic Center, located in Marina Del Rey, offers instruction and equipment for rowing, kayaking, sailing, surfing, windsurfing and paddleboarding.
Student Government
UCLA is home to a strong tradition of student government, and students play an active role in determining what happens on campus. The Undergraduate Students Association and the Graduate Student Association empower students to allocate budgets, found new clubs and develop a campus that reflects their values.
Arts and Culture
There are myriad ways to get involved in arts and culture on campus, as a spectator and as a creator. Students are DJs for Campus Radio, they're writers and editors at the Daily Bruin, and they enjoy films together at Melnitz Movies, a student-run repertory cinema program.
Business and Entrepreneur­ship
UCLA students are the driving force behind a vibrant culture of business and entrepreneurship. With an annual membership of over 5,000, the Undergraduate Business Society is the largest student organization at UCLA. Students have many opportunities to gain real-world knowledge and experience, including Startup UCLA's Summer Accelerator, a 10-week program designed to help entrepreneurial students succeed at developing their own businesses.
Volunteering
Through the UCLA Volunteer Center, Bruins embody one of UCLA's core values: service. Volunteer Day event kicks off the academic year with more than 5,000 Bruins serving at sites across Los Angeles. Throughout the year, Bruin volunteers partner with local organizations to support our community in a multitude of ways, from providing healthcare and services to the homeless to serving meals to veterans on Thanksgiving.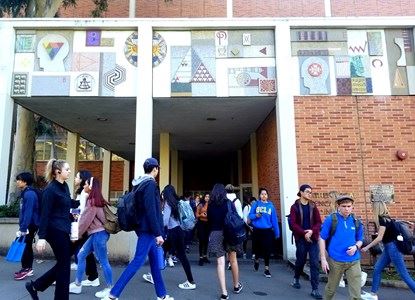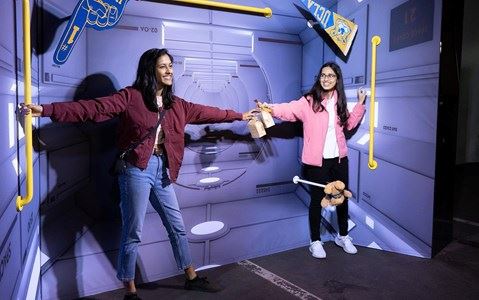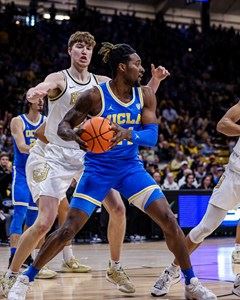 Useful Resources