All Summer Program
What makes Yale different
Yale University is a private Ivy League research university in New Haven, Connecticut. It is known for its academic excellence, selective admissions, and historic campus. However, there are a few things that make Yale University unique:
Residential colleges:

 

Yale is divided into 12 residential colleges, each with its own dining hall, library, and common spaces. This system creates a close-knit community where students live, learn, and socialize together.
Interdisciplinary approach to education:

 

Yale encourages students to explore different disciplines and to collaborate with students from other majors. This focus on interdisciplinary learning prepares students for the real world, where problems are often complex and require solutions from multiple perspectives.
Strong focus on undergraduate education:

 

Yale is a research university, but it has a strong focus on undergraduate education. The university's faculty are dedicated to teaching and mentoring undergraduates, and students have the opportunity to take courses from world-renowned experts.
Commitment to diversity and inclusion:

 

Yale is committed to diversity and inclusion. The university's student body is made up of students from all over the world, with a wide range of backgrounds and experiences. This diversity enriches the learning experience for all students.
Collaborative culture:

 

Yale is a community of learners and innovators. Students are encouraged to collaborate with each other, with faculty, and with industry partners. This collaborative culture fosters creativity and innovation.
Programs
Yale University
---
Young Global Scholars: Innovations in Science & Technology
---
One of the most globally diverse, two-week academic summer programs in the world. Innovations in Science & Technology (IST) is designed for students who are interested in learning about diverse topics in the STEM fields and applying scientific principles to real-world applications.
Yale University
---
Citizens Thinkers Writers
---
Citizens Thinkers Writers offers rising juniors and seniors from New Haven public schools a tuition-free opportunity to explore fundamental moral and political questions in a college setting.
Yale University
---
Daily News Summer Journalism Program
---
Run by members of the Yale Daily News, the Summer Journalism Program is a five-day intensive course in journalism for high school students. Students participate in workshops on the fundamentals of reporting and writing and attend lectures by guest speakers from major national publications. The week culminates with the production of an issue of the Yale Daily News.
Yale University
---
Young Scholars Summer Program in Biostatistics and Clinical Research
---
YCAS Young Scholars is an intensive summer program provides promising high school students entering 11th and 12th grade, who excel in math and science, with the opportunity to learn about the work of biostatisticians in an academic environment.
Yale University
---
Young Writers' Workshop
---
Yale is excited to offer a one-week online summer writing workshop for 16 - 18 year old rising high school sophomores, juniors, and seniors. We're seeking bookish wordsmiths interested in adding to their writerly toolbox, writers who will generate and share their work in an intimate, non-competitive, online community.
Yale University
---
Ulysses S. Grant Program
---
The Ulysses S. Grant Foundation is a 6-week academic summer program for highly motivated middle school students who are enrolled in public and parochial schools in New Haven, CT. A team of Yale undergraduate teachers, through courses in the humanities, investigations, electives and group activities, helps students acquire skills to excel in their current school environment and in college.
Yale University
---
Summer Debate Program
---
The Yale Summer Debate Program is Yale's largest debate program held during the summer, and is open to middle school and high school students. Most students are from New Haven and surrounding areas, though we have welcomed students from across the country and world in recent years.
Yale University
---
Intensive English Program
---
This summer, develop the skills, fluency, and confidence you need to communicate effectively in English. You will improve your overall abilities in both spoken and written English, as well as your understanding of the cultural diversity in the U.S.
Learn More
Campus Life
Campus life at Yale University is vibrant and diverse. There are over 400 student organizations, so there is something for everyone, whether you are interested in academics, athletics, arts, or anything else. The university also has a strong Greek life presence, with over 30 fraternities and sororities.
In addition to the many student organizations, Yale also has a variety of on-campus facilities, including a gym, a swimming pool, a theater, and a performing arts center. There are also a number of restaurants and shops on campus, so students can easily find everything they need without having to leave campus.
Yale University is located in New Haven, Connecticut, a city with a lot to offer students. There are many cultural attractions in New Haven, such as museums, theaters, and sports teams. The city is also home to a number of Fortune 500 companies, so students have the opportunity to intern or work with these companies while they are in school.
Overall, campus life at Yale University is both challenging and rewarding. Students are encouraged to be active and involved, and they have the opportunity to make lifelong friends and connections. If you are looking for a top-ranked university with a vibrant campus life, then Yale University is the place for you.
Here are some specific examples of things that students can do on campus:
Attend sporting events: Yale has a strong athletic program, and students can attend games for free.
Go to the theater: Yale has a performing arts center that hosts a variety of shows, from plays to concerts.
Visit the museums: New Haven has a number of museums, including the Yale University Art Gallery and the Peabody Museum of Natural History.
Take a walk or bike ride: Yale's campus is located in a park-like setting, so there are plenty of opportunities to get outdoors.
Volunteer: There are many opportunities for students to volunteer in the New Haven community.
Intern or work with a company: Yale has a strong co-op program, so students can gain practical experience while they are in school.
No matter what your interests are, you are sure to find something to do on campus at Yale University.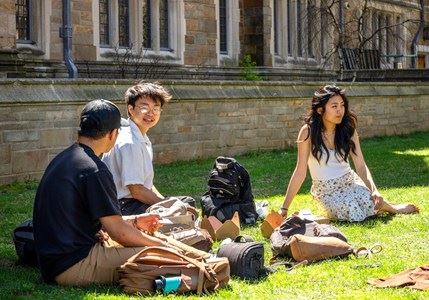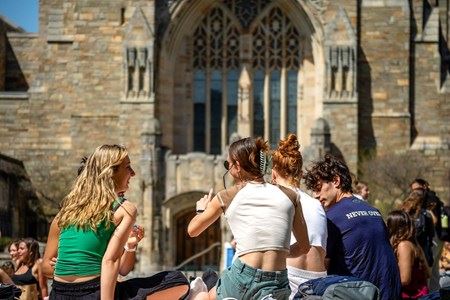 Useful Resources